Nurse On Call Vero Beach: Your Convenient Home Care Solution
Are you or a loved one in need of medical attention, but can't leave the comfort of your own home? Lux Senior Care is here to help. We offer referrals for nurses on call in Vero Beach, giving you the peace of mind that comes with knowing you have access to quality medical care whenever you need it.
When Might You Need a Nurse On Call in Vero Beach?
When it comes to healthcare, having a nurse on call in Vero Beach can be incredibly beneficial in a variety of situations. For example, perhaps you or a loved one has a complex medication regimen that requires close monitoring and adjustments. In this case, having a nurse available to help manage medications and ensure they are taken properly can be invaluable.
Similarly, if you or a loved one is experiencing difficulty with activities of daily living such as bathing, dressing, or preparing meals, a nurse on call can provide much-needed assistance. This can help you or your loved one maintain independence and quality of life while also ensuring that necessary tasks are completed safely and effectively.
We understand the importance of having access to a qualified nurse on call in Vero Beach. That's why we work hard to connect our clients with experienced, compassionate nurses who can provide the support and care they need. Whether you require short-term assistance or ongoing care, we're here to help you find the right solution for your unique situation.
Complete the Form Below and We'll Get Back to you Immediately.
Lux Senior Care's Referrals for Private Duty Nurses in Vero Beach Help with the Following
A nurse on call in Vero Beach can assist with a wide range of activities, including wound care, medication management, and physical therapy as well as with various other medical care needs. The nurse can monitor the patient's condition, provide updates to the physician, and communicate with other healthcare professionals involved in the patient's care.
Additionally, they can help with tasks such as meal preparation, housekeeping, and errands to ensure that the patient's daily needs are met. Furthermore, they can offer emotional support to patients and their families during difficult times and provide education on health and wellness to promote a healthy and fulfilling lifestyle.
With the help of a nurse on call in Vero Beach, you or your loved one can maintain independence and enjoy a higher quality of life while receiving personalized and compassionate care.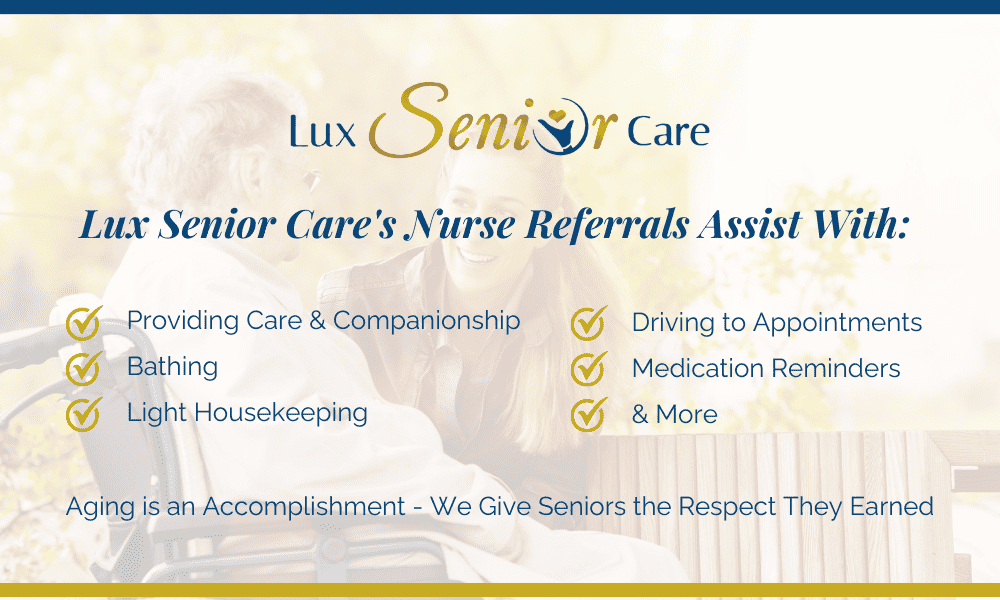 Our Commitment to Providing Convenient Care from the Most Qualified Professionals
At Lux Senior Care, we understand the importance of having trustworthy and qualified nurses on call in Vero Beach. To ensure that our clients receive the highest level of care, we have implemented a rigorous selection process for the nurses on call that we refer.
We Only Refer Qualified Professionals
First, we conduct thorough skill assessments to assess the competence of each nurse on call in Vero Beach. This includes evaluating their ability to handle a variety of situations, from administering medication to managing emergency situations.
In addition to skill assessments, we require all of our nurses on call to be certified or licensed. This ensures that they have received the necessary education and training to provide exceptional care to our clients.
Each Nurse Referral Undergoes Rigorous Background Checks to Ensure Our Client's Safety
But that's not all. We also perform stringent background checks to ensure that our nurses on call have clean records and are free from any criminal activities or charges. This is important for our clients' peace of mind, and it helps us maintain the high standards of care that we pride ourselves on.
We are committed to providing our clients with the best possible nursing care. By carefully selecting our nurses on call, we can ensure that our clients receive the exceptional care they deserve.
Flexible Scheduling to Meet Your Needs
Not every situation goes according to plan, things come up…and when trouble strikes – we'll be there to lend a helping hand. We completely understand that every situation is unique, and we are committed to providing personalized and tailored care to meet your specific needs. We offer a wide array of flexible scheduling options that are designed to accommodate your busy schedule and lifestyle. Whether you require assistance for a few hours a week or you need full-time, around-the-clock care, we have you covered.
Our registry of nurses in Vero Beach is highly skilled, experienced, and compassionate. We maintain an extensive registry of nurses on call, so we can easily fill in any gaps in scheduling or provide backup nurses in the event of an emergency. Rest assured that we are always here to support you and your loved ones, and we will work tirelessly to ensure that you receive the highest quality care possible.
Contact Us Today for a Free Consultation
If you or a loved one could benefit from the services of a nurse on call in Vero Beach, don't hesitate to contact Lux Senior Care today. At Lux Senior Care, we believe that aging is an accomplishment – and we treat our seniors with the respect that they earned.